Return to Community
How do ACT scores stack up in Utah?
April 17, 2019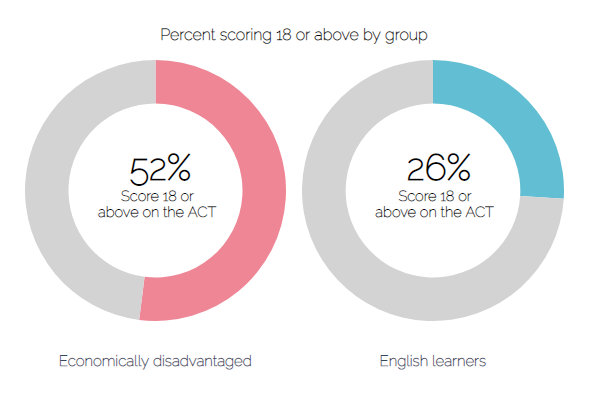 ACT score data as seen on Utah's Education Pipeline dashboard.
The ACT is an entrance exam required by most colleges and universities in order to be considered for admission. The exam is designed to measure what a student has learned throughout high school and is comprised of four sections: English, math, science, and reading, with an optional writing exam. The composite score is the average of these scores and ranges on a scale of 1–36.
In 2016, 65% of Utah students had a composite score of 18 or higher on the ACT, down 1% from 2015. English learners had the lowest percentage of students scoring 18 or above at 26%, followed by American Indians at 34%.
Utah students who qualified for reduced price school lunch defines the economically disadvantaged group who had 17% fewer students scoring 18 or above compared to students who are not economically disadvantaged.
Learn more in the Postsecondary Readiness section of Utah's Education Pipeline.