Return to Community
Tax Revenue Generated from UTech Graduates
November 27, 2019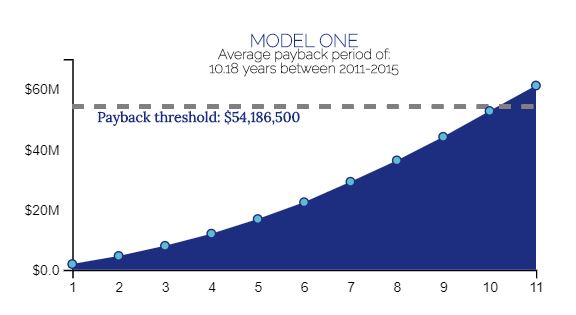 In the Utah Data Research Center's "ROI of Career and Technical Education provided by the Utah System of Technical Colleges (UTech)", it was reported that UTech awarded 7,056 certificates in 2016, which added an estimated $68.3 million to Utah wages. These additional wages generated more income tax revenue for the state. The size of revenue impacts the payback period length for appropriated money.
The report used two payback periods and looked at graduates' income taxes paid to determine how long it took for the state to fully recuperate the cost of their appropriations investment.
Payback Period Model 1
The first model calculated the payback period of every UTech graduating class from 2011 to 2015. Pre- and post-certification wage were used in the calculation. Overall, an average of 10.18 years passed before initial funding was paid back. The fastest payback period with this model was in 2013 of 9.81 years while the payback period that took the longest was in 2011 with 10.7 years.
Payback Period Model 2
The second model also considers the 2011-2015 cohorts. However, instead of pre-certification wage, this model used the Census Bureau wage estimates as a base. The model resulted in an average payback period of 11.26 years. The shortest payback period was 10.07 years, while the longest was 12.8 years.
To learn more about the wages of UTech graduates and the payback period of state appropriations, read the report here.