Return to Community
Utah Data Research Center receives Best of Utah award for partnership
June 12, 2019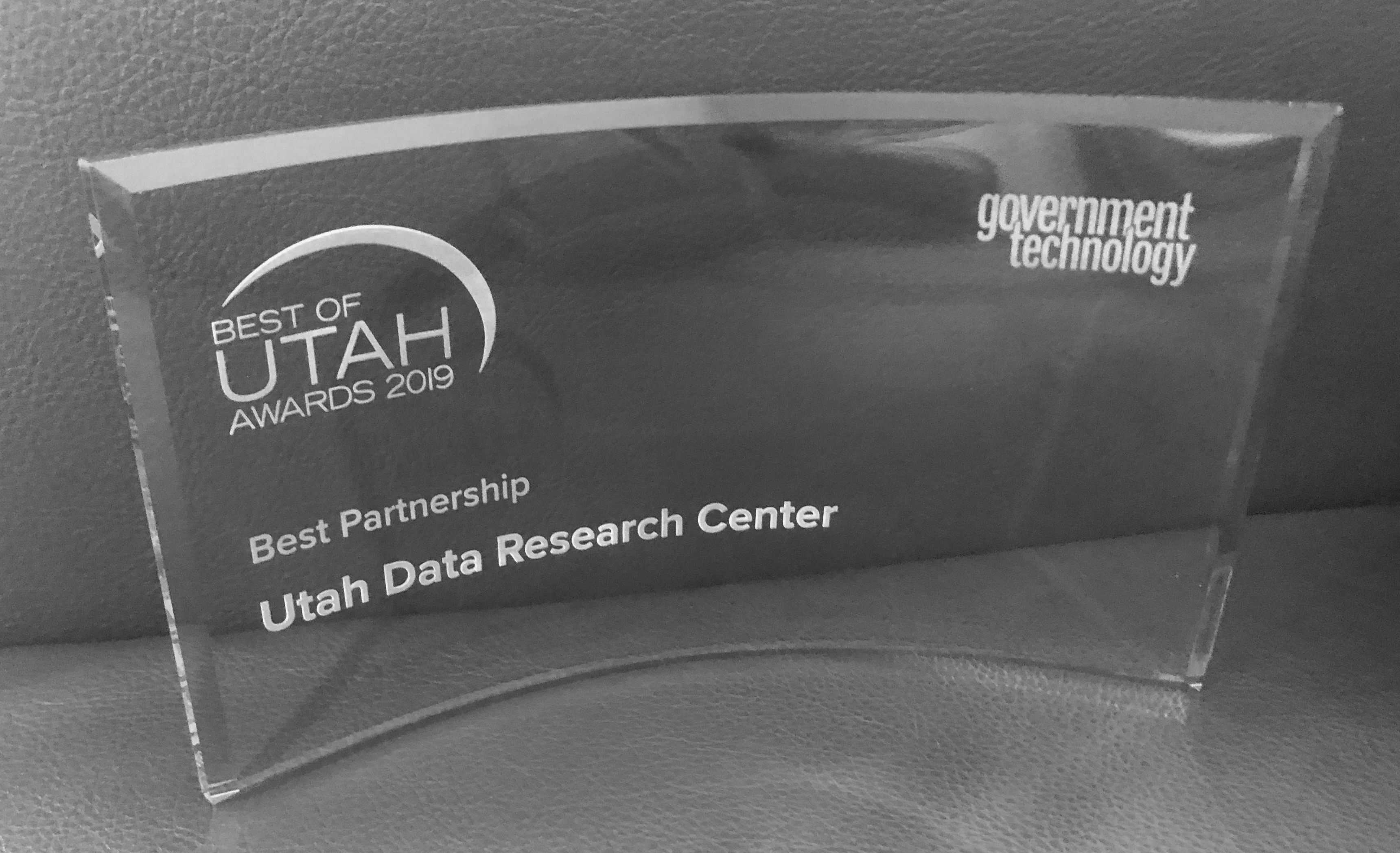 The Utah Data Research Center received a Best of Utah award for "Best Partnership" at the Utah Digital Government Summit on June 4, 2019. The award recognized the center's efforts in collaborating with several government agencies to consolidate datasets for research and analysis. Below is part of the award nomination that explained the success of UDRC with the help of its partners:
The Utah Data Research Center's (UDRC) State Longitudinal Data System (SLDS) houses data from four departments in the State of Utah: the Utah Department of Workforce Services (wage record data), the Utah System of Higher Education (universities and colleges), the Utah System of Technical Colleges (technical schools), and the Utah State Board of Education (K12 education). An additional fifth department, the Utah Department of Health, will soon be releasing health data to UDRC as well.
UDRC is the only entity in Utah that has access to all of these datasets. These data are stored in a longitudinal fashion, which allows for the conducting of research on individuals through time for the purpose of informing public policy. Without the SLDS, this research would be significantly difficult to be completed, or in some cases impossible—requiring years' worth of data to be curated and managed through time.
The SLDS project has resulted in two significant outcomes:
- Decreased the cost of rigorous research in the realm of public data, specifically in the pre-k through workforce realm.
- Completed the requirements of the federal SLDS grant in a successful manner.
With this new system, UDRC is currently developing its first original research on the effects of working while in college, and the economic return on investment of technical colleges. These research projects will be released in summer 2019. It is also anticipated to launch a new external data request application that allows external researchers to request access to UDRC's data.
To learn more about the Utah Data Research Center, visit the about page at https://udrc.utah.gov/about.html.