UDRC's Research Process
Kelsey Martinez, PhD, Research Manager
September 01, 2021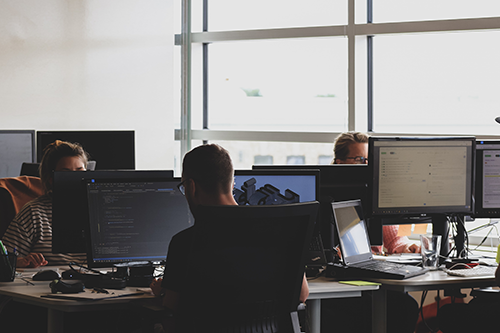 Here at UDRC, we are constantly making updates and improvements to every one of our processes. This week, I thought it might be helpful for some of our research peers and data partners to go over our internal research process. I have previously covered UDRC's peer review process in detail, but our entire research process involves more than just peer review.
Here are our current research process steps:
Research Agenda: The research topic is added to UDRC's annual research agenda. The creation of the research agenda is a lengthy process involving all of UDRC's stakeholders.
Project Assignment: As UDRC researchers complete research projects, they are assigned new research topics from the research agenda in the order they appear on the agenda. The researcher explores the primary literature associated with their newly assigned research topic and consults data partners for any preliminary information they need.
WRA Research Committee Approval: Researchers complete a proposal and present it to the Workforce Research and Analysis (WRA) research committee, consisting of the WRA director, DWS's Chief Economist, the Chief of Research, and the UDRC Manager. This committee ensures that WRA and UDRC have the data to support the proposal, that the research can be completed in roughly six months, and reviews any data limitations or concerns about the proposal they may have.
First Data Partner Meeting: Researchers prepare a proposal presentation slide deck to present to relevant data partners. The topic of the research and preliminary methods proposed are discussed at a meeting with data partner representatives. These meetings are truly invaluable to UDRC staff as we rely heavily on the subject matter expertise of our data partners to accurately complete every research project we undertake.
Data Analysis Round 1: Researchers pull the data from the UDRC data warehouse and do the analysis! We also complete an outline of results tables, figures, and main conclusions.
Second Data Partner Meeting: At this meeting, we present preliminary results to data partners. The data partners review results, discuss any concerns they may have, and provide additional subject matter expertise on data columns, tabulations, and filters.
Data Analysis Round 2 and Completion of Final Draft: The researcher makes any necessary analysis revisions or additions suggested by the data partners and then writes up a formal final draft of the project.
Peer Review: Each one of UDRC's research projects undergoes an extensive internal and external peer-review process.
Data Narrative Planning and Creation: The research team works with our UX researcher to create an interactive data narrative/dashboard. More on this to come in a future post!
We are always looking to improve our research process and stakeholder communication. If you have any recommendations or suggestions for ways that we can improve, we would love to hear them at UDRC@utah.gov!