User Experience is a Practice of Negotiation during Design Reviews
Laura Dahl, PhD, UX Researcher
October 20, 2021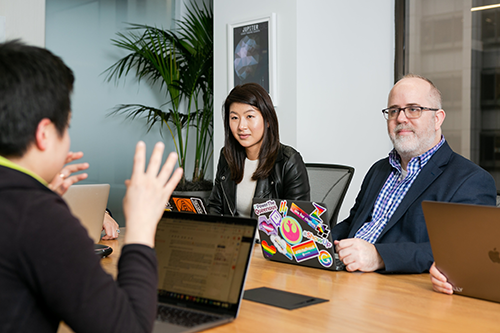 User experience (UX) design and research in an organization, such as the UDRC, means that a good practitioner should have quality soft skills. These soft skills should include healthy collaboration and negotiation during team meetings. Good communication and listening are essential with an attitude of collaborating with key stakeholders. For example, I have developed a good relationship with UDRC leadership, and my UX presentations are collaborative and allow for negotiation of the final design specifications.
To have good collaborative meetings, I have learned to do the following during and after the design meeting.
The design review
Begin your design review with the right attitude about your work. Presenting your work can make you feel vulnerable, especially if your design is new to the organization. Rather than taking the feedback personally and thinking of it as negative, keep your thoughts on your product and welcome information that you might not be aware of or that has the potential to improve your design. I often find these meetings valuable to my design work because I am often told about business requirements and other information that I did not know about, but that was essential to include.
Start your design review by reiterating the objectives of your design work. Next, repeat the goals of the work, then quickly summarize personas, user pain points, user tasks, and previous work. While summarizing pain points and user tasks, use fact-based evidence rather than pseudo-evidence.
Pseudo-evidence is an attempt by a designer to support a claim that cannot be backed up by usability tests, interviews, or industry standards, such as Norman-Nielson Group recommendations. Such pseudo-evidence can take the form of a hypothetical story that comes from assumptions from the designer, such as, "I think it would be a mistake to use a small font size because the elderly will have a difficult time reading it."
Fact-based evidence includes support from user research, such as a usability test, interview, or a user's email. Real evidence like this might consist of a quote or summary of something said during a usability test. For example, we might use fact-based proof such as, "Remember that we watched at least one of our usability participants have trouble reading text on our research report when she asked if it would be possible to 'zoom in' so she could read it."
To make your design work more compelling, tell the story of how you arrived at your designs. Loop the others in your meeting into the problems you encountered, your inspiration, and your decision points.
After giving your design presentation, ask for specific feedback. Asking for particular elements that you need feedback on, such as the layout, navigation, typography, etc., helps team members stay focused on the right things.
When receiving feedback, understand your organization's context and limitations put on stakeholders. Explain what works, what does not work, and where you need input and suggestions. Most importantly, stop and listen to the others in the room or on your teleconference call. If stakeholders feel like you are listening to them, they are more likely to share their feelings and what they know. Your willingness to listen allows for a calmer mindset and often gives you an opening to negotiate with them.
When listening, try to understand where they are coming from and the limitations and challenges constraining their feedback. It is not a good idea to think of their feedback as negative. This negative attitude can bring an unhealthy environment to your meeting.
Ask questions and lead a discussion to clarify your understanding. Use design thinking techniques such as ideation and brainstorming to encourage discussion and break down barriers of understanding. I find it essential to involve everyone on the team and welcome everyone's suggestions and ideas. Close collaboration and involvement with leaders and other team members help us arrive at agreements sooner in the process.
Updating Your Designs and Sharing Them
After the collaborative meeting is over, work on updates to your project based on the design thinking done during your discussion. Then, share those designs with stakeholders and get their feedback and final approvals.
In summary, user experience practitioners are heavily involved in defining how online products and services are designed and developed. As a result, the role of UX has expanded to utilize healthy communication practices during design reviews. In addition, the UX designer can be a catalyst for good collaboration and negotiation by involving team members in group design ideation and brainstorming.
References
Friess, E. Decision-making strategies in design meetings. Chi '07 Ext Abstr Hum Factors Comput Syst 1645–1648 (2007) doi:10.1145/1240866.1240873.
Friess, E. Defending design decisions with usability evidence. Proceeding Twenty-sixth Annu Chi Conf Ext Abstr Hum Factors Comput Syst - Chi '08 2009–2016 (2008) doi:10.1145/1358628.1358631.
Gibbons, S. Design Critiques: Encourage a Positive Culture to Improve Products. Nielsen Norman Group https://www.nngroup.com/articles/design-critiques/ (2016).
Lisefski, B. How to give and receive great design feedback. UX Collective https://uxdesign.cc/how-to-give-and-receive-great-design-feedback-ca5e37eea4b9 (2019).