User Experience: What is it, and Why is it Important?
By Laura Dahl, PhD, UX Researcher
February 24, 2021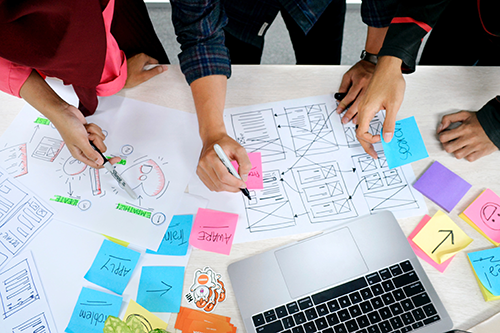 User experience (UX) focuses on a deep understanding of users: what they need, what they value, their abilities, and their limitations. UX practitioners also account for the business objectives and goals of the group managing the product. Overall, a UX professional's best practices promote improving the quality of each user's interactions with the website and how users perceive the site.
Peter Morville visualized the important elements of user experience as a honeycomb, as in Figure 1, that users need for a website such as http://udrc.utah.gov.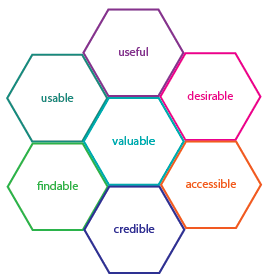 As shown in the graphic, information and interactions on the website must be the following:
Useful: The information on the site should be original and fulfill the needs of its users.
Usable: The website needs to be easy to use.
Desirable: Images, identity, branding, and other site elements create desirability to visit the site.
Findable: Users need to be able to find what information they are looking for easily.
Accessible: Making the website accessible means that it enables people with a range of abilities and disabilities to perceive, understand, navigate, and interact with it.
Credible: Users need to trust and believe the content and information on the site.
Valuable: Our site needs to deliver value for our data partners, and it must advance the mission of delivering information about Utah employment, education, and health to the general public.
Why is User Experience Important?
Considering user experience is essential because that is what our site visitors need, and I would like our users to experience motivation, interest, and delight when using the site. As with Abraham Maslow's hierarchy of needs, Aarron Walter, in his book Designing for Emotion, described a hierarchy of user needs that closely mirrors Maslow's hierarchy. He argues that superior needs, such as motivation, interest, and delight, can only be achieved after more foundational ones, such as functionality and usability, are fulfilled (as visualized in Figure 2).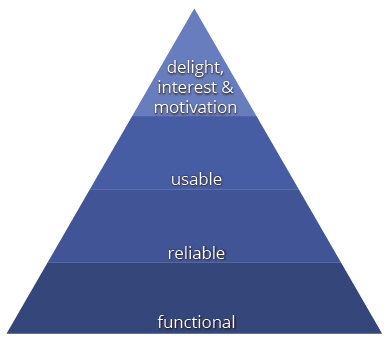 For example, if those visiting udrc.utah.gov do not find it functional and reliable, they will not return to the site. Next, the website must be usable: it should not require much effort to learn, discover, and use its content. Only when a site is functional, reliable, and usable do users become motivated to use the site and experience interest and delight. Walter's theory tells us that users will not be motivated and interested in the site's content until a site is usable.
How we are doing User Experience at UDRC
I recently did seven usability tests on udrc.utah.gov and found that we can improve findability and awareness about its content and information. We will be updating the site soon based on those findings, but that will not be the end.
We want to continue to do usability tests on udrc.utah.gov, so we are looking for people who use our website and want to be a part of a research pool to give feedback. You might have the opportunity to provide feedback on the website or on research reports we are preparing to publish. If you volunteer, you would not be asked to help any more than once every six months.
If you are interested in volunteering to give feedback, please give us your contact information through a small survey.
References
Fessenden, T. (2017, March 5). A Theory of User Delight: Why Usability Is the Foundation for Delightful Experiences. Nielsen Norman Group. https://www.nngroup.com/articles/theory-user-delight/
Morville, P. (2016, October 11). User Experience Design. Semantic Studios. http://semanticstudios.com/user_experience_design/
Usability.gov (2014, February 19). User Experience Basics. usability.gov Improving the User Experience. https://www.usability.gov/what-and-why/user-experience.html
Walter, A. (2011, January 1). Designing for Emotion. A Book Apart. ISBN: 978-1-937557-93-5.